Description:
Little flecks of glitter embedded in a vinyl film overlaid with sheen - this is how the amazing Sparkle Adhesive Vinyl at Ahijoy looks like. It is a highly reflective vinyl with a shimmer and sparkle that cannot be beaten. Since it is from our holographic series, it plays with the light giving off an iridescent shine. It promises to jazz up any surface it is applied to and is especially for those who like things colorful, bright and shiny, that invigorates the aura by radiating fun and gaiety. 
Sparkle Adhesive Vinyl is our popular vinyl product available in nine beautiful shades. It is available in 5ft and 10ft rolls and is easy to apply with best adhesion and durability.  There are many creative ways to use this vinyl film. Since it is tough enough to withstand indoor and outdoor use without peeling and cracking, you can use it for wall and window decals, labels and signage. It is flexible to adapt any curvy shape and can be applied to a variety of smooth, clean, and dry surfaces like glass, plastic, metal, ceramic and wood. If you are making a home decor item or embellishing your drinking utensil with it, and do not want to use too much bling, then mix and match the design with our Glossy Holographic Adhesive Vinyl to mellow it down making it classy and unique. You can decorate your table with photo frames displaying your favorite quote written with this vinyl or apply it to key chain blanks to personalize them. If you are inventive, there is no dearth of ideas!
Flexible and versatile, our Sparkle Adhesive Vinyl is super easy to apply. Simply feed your design to the cutting machine without mirroring it. Weed off the excess vinyl. Place a transfer tape on the design and smooth it out with a squeegee to remove creases. Place the design on your project surface, squeegee, and peel off the tape. The beautiful craft is ready to behold!
Specifications: 
High-quality adhesive vinyl material.

Easy to apply with a squeegee!
Colors available:

Silver, rose red, rose gold, purple, light blue, gold, blue,

red and

green.

Sizes available:

12''x 24''

12''x 36''

12''x 48''

. Custom sizes are also available upon request.

Pattern: Glitter flakes overlaid with sheen

Finish: Holographic shimmer

Packaging type: Roll.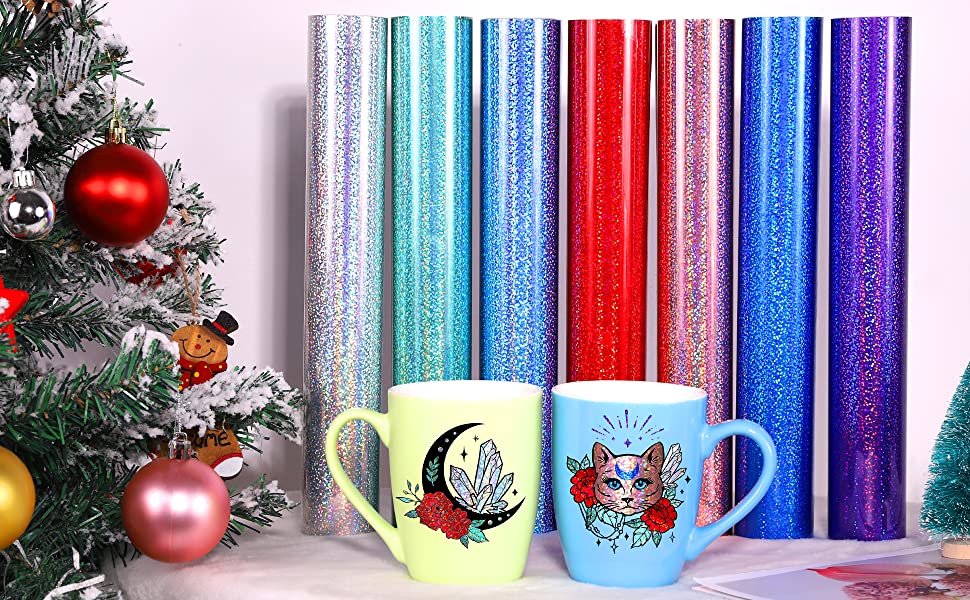 If you have any issues/concerns, please do not hesitate to contact us: support@ahijoy.com